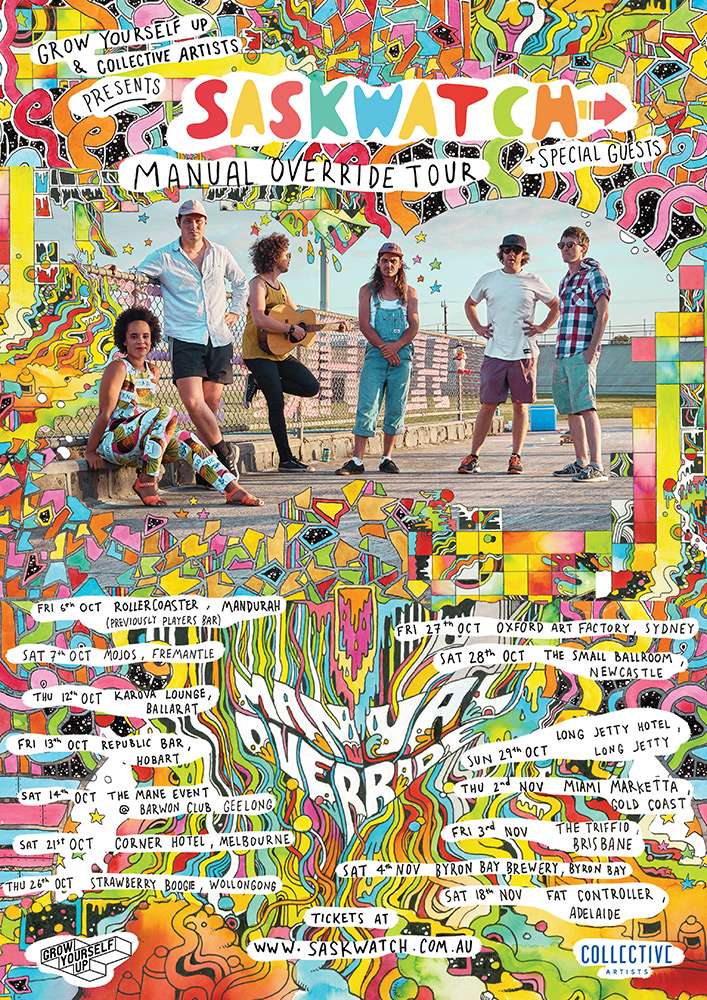 Grow Yourself Up & Collective Artists presents:
Saskwatch - Album Tour
Saskwatch
$20.00 + BF
Entry Requirements: 18+ (ID Required)
Buy Tickets
Melbourne's Saskwatch have had an epic year, from deciding to release their album independently as well as stepping into their own producing chair, to selling out their album preview shows in Sydney and Melbourne last month.
All of this culminating today with the release of their fourth studio album 'Manual Override' and the announcement of a massive national tour taking them around the country throughout October and November.
'Manual Override' marks a special moment for the band as it's the first time the six-piece outfit have co-produced & mixed their own work, alongside sound engineer and long-term friend Cal Barter in Newmarket Studios, Melbourne. 'Manual Override' feels collaborative, confident and independent from the core. Its experimental and playful nature blends genres and feels liberating, producing a record that sounds earnest, mature and timeless – giving listeners the most personal and vulnerable collection of songs to date.
With singles "December Nights" smashing the AMRAP charts, as well as being added to triple j rotation and being praised for it's "fuzzed out guitar lines and groove laden bass." (BEAT), to "Then There's You" premiering internationally on Interview Magazine and giving fans an intimate and eerie video, to latest cut "Gemini" bringing it all together to form the overall sound of the album, Saskwatch are at their musical peak and are excited to bring the live show across the country and show fans new music!
"Saskwatch are focused on creating an indie-pop album filled with lush choruses... and a generous serve of rawness around the edges." – The Music ★★★★
"So many of pop's most compelling songs remain those composed of equal parts light and shade… here Saskwatch nail it."- Rolling Stone ★★★☆
"The band back up the distorted, colourful first single with a subdued, synth-heavy ballad very reminiscent of the more electronic side of Mac DeMarco, or Currents-era Tame Impala." – Triple J
"Nkechi Anele's vocals still reign supreme but this time they're accessorised with psychedelic sounds, surf-rock guitar licks and fantastical sonic accoutrements" – Music Feeds
"Melbourne's Saskwatch have really upped the surreal with new single 'December Nights'. Vibin' like they're ridin' on the magical mystery tour there's flutes and fuzz for all in this technicolour gem." – Tonedeaf